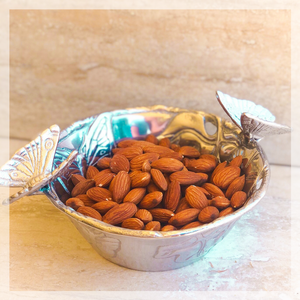 Great for entertaining, this Arthur Court Butterfly Nut Bowl features a beautiful deep dish design and a high polished finish, with butterflies alighted on each side of the rim. Inspired by summer gardens, this piece will bring a smile to your guests' faces all year 'round when you set it out, filled with our delicious almonds.

Elegant butterflies display inside this dish as two of their companions try and lift them to safety by the handles. The brilliant luster of this handmade, aluminum design highlights each insect's detailed wings.
Paired with one 5 ounce package (your choice) of MHN.

Size: Diameter: 6.0" / H: 3.75"
Care: Wash by hand with mild dish soap and dry immediately - do not put in dishwasher.